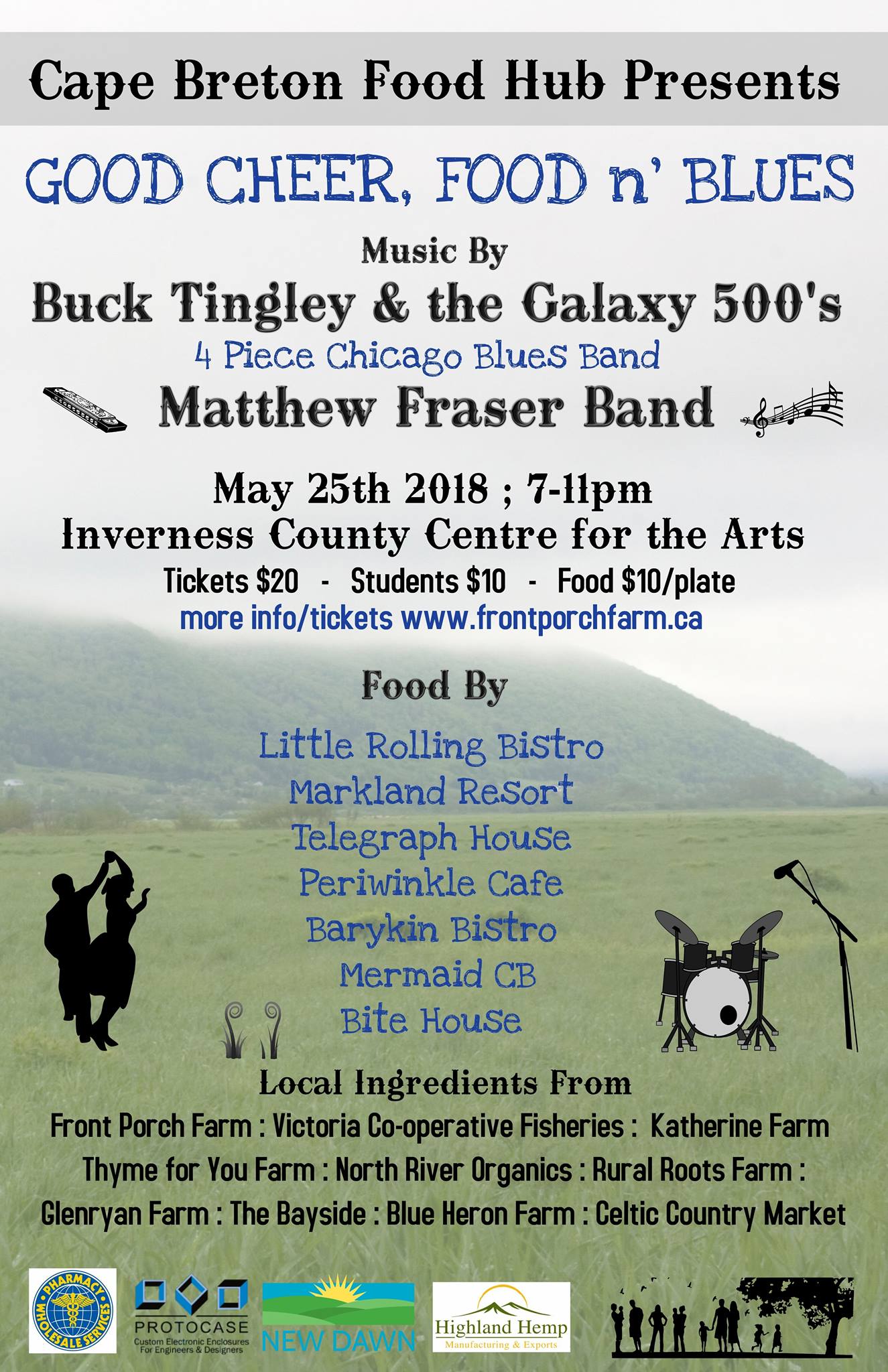 We are having a Blues Concert and a la carte menu that will feature local food from various Cape Breton Restaurants.

Buck Tingley and the Galaxy 500's are a 4 piece Blues band hailing from Halifax, NS. They play a swinging style of Chicago blues. Great for twintin swinging or sitting back and enjoying a cold brew and a game of crib.

Inverness's own Matthew Fraser Band will be doing an opening set of rockin blues to get us started for the evening.

There will seven (or so) participating restaurants from Cape Breton that will be making up various dishes with local ingredients supplied by the Cape Breton Food Hub.

Tickets are $20, $10 Students
Food is $10/plate
Each plate is one restaurant item with bread.
Ticket are available at Front Porch Farm
Proceeds from the event will go to the Cape Breton Food Hub.

Menu:
Bite House - Seafood Chowder
Telegraph House - Crab Cakes & spring Greens
Little Rolling Bistro- Moroccan Vegetable Stew
Markland Resort - Lamb Curry
Periwinkle Cafe - Hearty vegetable salad (vegan)
Mermaid Mobile CB- Pulled Pork Mac n Cheese
Doug's Deli - Famous Beef Chilli
Celtic Country Market- Bread & Rolls

Ingredients from:
Blue Heron Farm - Gardiner Mines
Front Porch Farm - Margaree Forks
Glenryan Farm - South West Margaree
Katherine Farm - Roberta
North River Organics - North River
Rural Roots Farm - Margaree Forks
Thyme For Ewe Farm - Millville
Victoria Co-operative Fisheries - Neil's Harbour